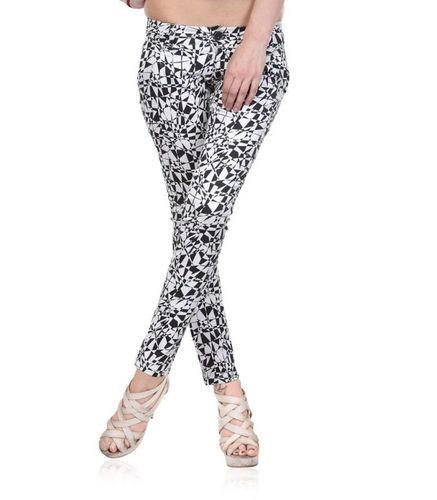 In the middle the to late 2000s, skinny jeans and jeggings re-merged as a popular garment in the women's fashion. Due to the resurgence of the skinny jeans, a new style of jeans that is straight leg and form-fitting came into existence. This is when jeggings were born and people started using jeggings as daily wear. This the combination of both the popular garments. These are comfortable and stretchy like the leggings but also have a classic look of skinny jeans.
If you are confused about whether or not to join the jeggings craze, consider these major benefits of the jeggings for women. These points will show you the benefits of wearing jeggings and why you should choose to wear designing jeggings.
These Look Like Jeans
One of the main thing which makes jeggings the best among all is that it is just like skinny jeans. These are made with the denim and spandex blend but unlike leggings, these do not have to be worn under a shirt or a long dress. While some leggings can be see-through, jeggings are not. These can be styled with the same as the ordinary skinny jeans. Like jeans, jeggings for women have pockets and a button and zipper. Some also have belt loops.

Designer Jeggings Are Comfortable
One thing that set jeggings apart from ordinary jeans or skinny jeans is that these have incredible conform. The reason behind it is that these are made with the use of spandex or denim blend. These are stretcher and it makes them far more comfortable. Jeggings fit same as the leggings and these won't feel uncomfortable on your legs or stomach when you sit down or cross your legs.

These Are Versatile
While legging looks best with longer tops and under dresses, you can choose to design jeggings in countless different ways. You can choose to wear them with a loose tunic, form-fitting blouse or even a crop top. Pair them with heels or high heel boots if you are planning for a night out. You can also choose to pair them with sneakers or flat if you are going for a casual date. As these are straight leg and form-fitting, jeggings look great when these are tucked into the high top sneakers or boots.

These Look Flattering
As jeggings fit like leggings, these hug your body in all the right places. These have an amazing stretch which makes them fit for your body better than traditional skinny jeans. Also, because these have form-fitting and straight leg, these elongate your legs and make your look longer and leaner. Pair them with a pointed-toe heel to enhance the look.

Available In Different Colours And Patterns
You will get different patterns and colours in jeggings. You can choose to wear, floral print or other such prints that are available in different colours and pair with it different tops. You can create different looks when you choose to wear jeggings.
These are just some of the many benefits of wearing jeggings. Choose to wear the best jeggings and order from the best wholesale designer jeggings suppliers.
This entry was posted on August, 24, 2021 at 16 : 11 pm and is filed under designer jeggings. You can follow any responses to this entry through the RSS 2.0 feed. You can leave a response from your own site.