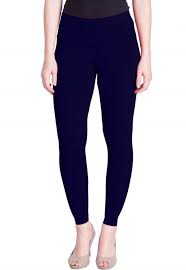 When composing everyday staples for your garments, you're aiming to design items that are versatile, comfy, and favourable. In the case of lowers for women, such as leggings and athleisure, Cotton Lycra fabric is often the stretchable fabric of choice due to its compound of cotton and spandex's most desirable qualities. hence women prefer cotton lycra ankle length leggings to team up with varieties of clothes.

Cotton lycra fabric is used for making leggings, jeggings, and ankle-length leggings as well.

Here are some of the benefits and applications of cotton lycra used in ankle-length leggings:

Benefits of Cotton Lycra Fabric

Comfortable
When you search in your wardrobe for something super soft dress; then your outfit of choice is typically made of cotton. It has to be cosy and breathable material. So cotton when blended with spandex, it becomes light and flexible. Cotton Lycra is a classic lounging material, provided for running jobs or staying at home while enjoying a favourite show.

Durable
Buying a cotton piece often means you are investing in a long-term item in your wardrobe. Cotton Lycra ankle-length leggings manufacturers usually deliver a longer lifespan than other blends as it's typically made with less of a percentage of spandex which if not properly maintained can fray. The cotton grants resistance to sunlight and mildew, along with spares the wearer from pilling with use.

Active
Incorporating spandex into a regular wearing cloth will guarantee that it matches your every move. If you have Cotton Lycra ankle length legging, this stretch fabric component will make you feel comfortable with cotton and mix fabric qualities dresses into performance wear. Combining strength and flexibility makes lycra cotton fabric versatile clothing to handle whatever task you throw at it.

Uses for Cotton Lycra Fabric:

Athleisure
This blended fabric is an attractive option for versatile athletic wear—namely cotton lycra straight fit leggings. Whether you are running to jobs or running on the treadmill, they will offer flexible wear that you will like to enjoy donning daily. If you have a Cotton Lycra leggings for workouts, though, make sure to wear with a comfortable material based dress. Cotton itself absorbs sweat, making the fabric dense and not breathable anymore.

Maternity Clothes
Cotton Lycra fabric leggings are particularly suitable for expectant mothers because it exists at the intersection of comfort and stretchiness. Maternity leggings made of this material and available as cotton lycra ankle length leggings to give the belly of moms-to-be the room it needs to grow throughout the pregnancy. Furthermore, these are soft, breathable and stylish. Its fabric assures that they are as happy and comfortable as possible.

It is easy to buy lycra ankle-length women's leggings online from leading cotton lycra ankle length leggings manufacturers usually results in some deals and steals. First-time customers who click through an online ad get between ten and thirty per cent off their first order, depending on which company they order their leggings. If you spot some ankle-length lycra leggings in an ad that you absolutely cannot refuse, why not buy them for yourself today?