Cotton Lycra Churidar Legging: A Fashion Staple For Every Woman
Posted by Admin on June, 21, 2021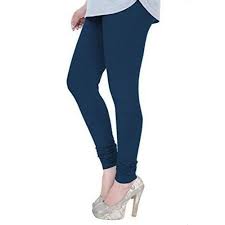 All women love wearing leggings to achieve a traditional feel. It is the most versatile apparel that can be worn anywhere, be it at work place or even at homes. Leggings are popular not just for its comfort but also because of the kind of flattering look that it offers. Leggings are available in the market in different lengths and cuts such as ankle-length, Mid-calf length and churidar.

Churidar leggings are a kind of slim fit bottom wear which are commonly longer than the length of the leg and form a number of pleats just above the ankle. These Leggings have been a part of Indian attire since long and have lived through decades of fashion changes, but still an enormous number of women prefer these leggings because of the comfort and style they provide throughout the day. They make it quite easy for the ladies to move and sit as compared to the extremely tight and unbreathable denim bottoms.

These Churidar Leggings are available in variant colours and different types of fabric like Nylon, Cotton Blend, Cotton Lycra etc. But the important question is, what is the right fabric for Churidar leggings ? Right fabric offers not just a flattering fit, but also ensures comfort you deserve. One such fabric is Cotton Lycra which is highly stretchable with high quality spandex to make it more durable. These cotton Lycra churidar leggings are made up of 95% cotton and 5% spandex to provide great elasticity and flexibility. It can be paired with a wide range of ways like long kurtas, ethnic tops, anarkali dresses and much more. These Churidar leggings allow swift leg movement and hence increased comfort all day long especially for working women. Hence, this attire is a must fashion essential for every woman with unmatched comfort.

Cotton Lycra Churidar leggings are the best option for all seasons and suitable for all occasions. These are available in many styles, colors & variations which are suitable for women of all ages. These leggings can give you a classy look everywhere and the most important thing is they will never go out of style.

Attributes of a high quality Cotton Lycra Churidar Leggings are as follows :
Super Soft
Breathable
4 way stretchable
Wrinkle Free
Long lasting Colour
Highly Durable
Easy to maintain and wash

Cotton Lycra Churidar Leggings offer an advantageous solution for women to style their everyday outfits in a budget-friendly manner for various occasions. Shop for an amazing collection of feather soft churidar leggings that goes well with your needs and desires.

These trendy leggings are easily available everywhere and in almost every shop of the market which are highly applauded by women from all over the globe. Hence, many companies in India are engaged in mass manufacturing of this garment in order to export to different countries and thereby boosting Indian economy. Cotton Lycra Churidar Leggings exporters should take care of the following crucial points:

-They should procure their products which are made from premium quality fabric and modern techniques.

-They should be associated with manufacturers that produce apparel in compliance with industry standards.

-They should have a designated team of quality experts to check each lot before forwarding it to the market.

-They should have huge storage facilities in order to meet bulk requirements of clients from all over the world.

-They should offer super quality cotton Lycra churidar leggings at affordable prices.

Hence, it can be firmly stated that this perfect addition of Cotton Lycra churidar leggings to every woman's wardrobe are evergreen and difficult to replace.